Thursday 08 June, 2023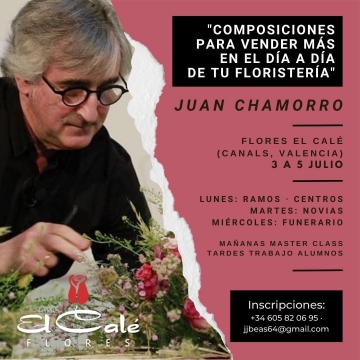 The next 3, 4 and 5 July, Juan Chamorro - Alnorte Academia Floral - will teach the course "COMPOSITIONS TO SELL MORE ON THE DAY TO DAY OF YOUR FLOWER SHOP" 🌸🌼🌻

The training will take place at our facilities, Flores El Calé, in Canals (Valencia) 📍

Different sales opportunities will be worked on: compositions that are trending, with a lot of effect and low cost. Floral work, sales strategies, product exposure, customer service, etc. will also be addressed 🧑🏽‍🏫

✔️ Day 1: Bouquets, centers, compositions with plant and flower.
✔️ Day 2: The world of the bride.
✔️ Day 3: Funeral compositions.

If you want to know more, contact Joaquim Beas, organizer of the course:
+34 605 82 06 95 📲
jjbeas64@gmail.com 📩
Tuesday 06 June, 2023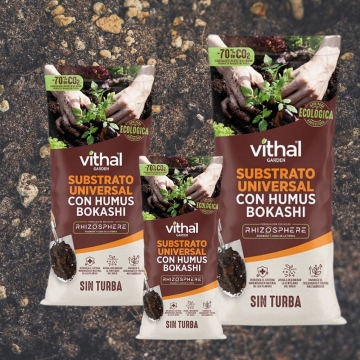 The substrate is essential for the life and maintenance of plants. A good substrate will make our plant grow healthy, strong and last as long as possible in the container where it is planted.
Therefore, we leave you here our new
land of Vithal
. It is a ready-to-use product, specially formulated to enhance the development of leaves and flowers, achieving more vigorous plants with more colour. Ideal for all types of indoor and outdoor plants, providing them with more greenery and increasing the number and size of the flowers.
Based on raw materials of natural origin, it offers a 100% germination capacity, ensuring the optimal growth of your plants. The Vithal substrate has excellent water retention and aeration characteristics, as well as fertilizer for the first 3 weeks.
To complete the efficiency of the mixture, we add our exclusive Bokashi Algae Humus and Mycorrhizal ingredients that provide greater growth, greater flowering and reinforce the natural immune system of plants, as well as root development, which provides better absorption. and optimal use of nutrients.









About us
Flores Calé S.L. It is a family business located in Valencia. Currently has 42 employees.We are dedicated to sell all types of flowers, Cut Greens, Plants, Dried and Preserved Flowers, Accessories for Florist and Decoration. We are direct importers from Ecuador, Colombia and Europe, we buy directly from the Aalsmeer auction and also from our national suppliers.




Prices are shown without VAT
Web Design